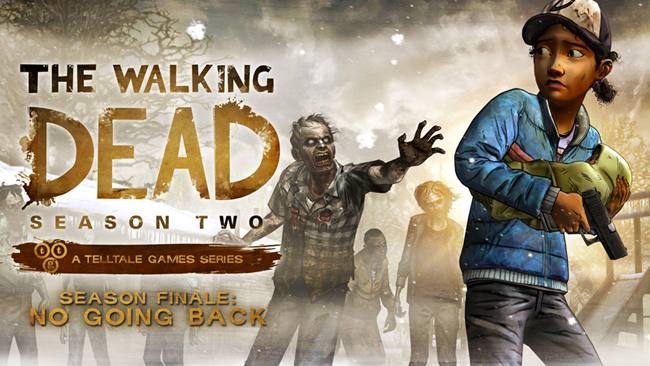 The Walking Dead: Season Two Finale, 'No Going Back', is now available on PC/Mac, Xbox 360, PlayStation 3, PS Vita, and iOS! Here's what the press has been saying about the season's conclusion.
IGN - 9.5 out of 10 - Editors' Choice - "This is perhaps the most heartbreaking and tense episode of anything Telltale has ever made. How Clementine braces for the impact of everything in front of her is up to you -- and where that takes her left me in awe."
Nerdist - 10 out of 10 - "Season 2 of The Walking Dead was one of the best gaming experiences I've had in quite some time, and No Going Back is a real mic drop moment for the series... Telltale continues to prove why they're one of the best in the business for deeply compelling, player-driven experiences."
Newsarama - "It's a masterpiece of gaming. It's a masterpiece of storytelling. It's a masterpiece of a morality play. The beauty of Telltale's promise, to deliver games that hybridize all these things, is fully realized here, in what can only be called the best gaming experience I've had in the modern era of video games."
Comic Book Resources - "will likely go down as one of the most impressive gaming experiences of all time."
The Escapist - 9 out of 10 - "Telltale continues to prove why it's among the masters of storytelling in videogames today, with an almost unmatched grasp of how to write believable characters, meaningful situations, and create a sense of tragedy and horror that truly engages with the player, thanks to a depth and nuance that you just don't see in other games."
Cheat Code Central - 10 out of 10 - "The Walking Dead: Season 2 Episode 5 'No Going Back' is emotionally devastating, truly and wholly emotionally devastating. Telltale games goes places that few video game writers, or any writers for that matter, dare go in this moving title"
And in case you didn't catch it over the weekend, check out the last pre-finale 'Playing Dead', where Melissa Hutchison (voice of Clementine) and Gavin Hammon (Kenny) discuss the development of their characters' relationship over the course of two seasons.

The Telltale team is now headed out to PAX in Seattle to show Tales from the Borderlands - hope we get to see you there!
Walking dead Season 2 Finale Reviews
Reviewed by
Ayush Roberts
on
August 31, 2014
Rating: